August 18-20, 2007. At long last, I've been to Cebu - it took me a good 30 years to finally set foot. What a shame! I didn't even think I would make it. Imagine the stress I went through the night before our departure from Manila because of the typhoon...there was a big flood and I prayed so hard that it would subside or else I'm gonna have to swim! Thank God, I made it! I'm so glad our flight was at 12:30 because the flood subsided at 10am...and yeah okay, I woke up at 9:30 albeit the twins' constant wake-up calls from eight until nine in the morning because we were supposed to have breakfast.
Sorry Lex, you lost your bet...
I wanted them to try the delicious congee at PAL's Mabuhay Lounge but since I came later than expected and because we had to share a table with other passengers, each of us had to content ourselves with one small serving. Haha!
Next time we know what to do!
It was an hour-long flight from Manila. My twin friends and I rented a car from the airport to our hotel (Waterfront). Thanks to the driver, Manong Ramon for suggesting that he can tour us to Cebu for an eight-hour rate of P1,500.

Day 1: After checking-in at the hotel, we went to the nearest mall, Ayala Mall to buy some
stuff and to have lunch. We had lunch at Bigby's. Just imagine the look on our faces when we saw the prices at the menu. I just
HAD
to order racka bye baby (baby back ribs) because I think there's nowhere in Manila that I can have it for P100+ and it is HUGE! Please stop wondering how I finished it all by myself - absolutely no doubt about it. We went to the grocery afterwards. I love
grocery-shopping in Cebu because there I found imported items that are not sold here. We had dinner at the hotel's Port Seafood Restaurant. It was a buffet and we had a feast. The bam-i and baked oysters were delicious. I think we had three plateful of baked oysters. We were quiet the whole time we were eating because there were "NK" beside our table. Annoying! I really took a picture of them but the lighting inside the
resto was dim. I didn't capture them the way I wish I would have. As you can see from the photo on the left, the price is unbelievable! I wish lunch buffets in Manila are just as low-priced but that's wishful thinking. We were all so full after eating I wonder why we managed to smile and took a shot at this photo right here. We had to walk really slooooowly to go back to our room. I'm so sorry Bexie but I just have to post this:
Day 2: The three of us woke up with smiles from our faces. The picture above says it all. At 8am, we were having buffet breakfast at
Uno
. It has a wide selection of food. I wish they offered french toasts though.
By 9am, Mang Ramon was already waiting for us just outside the lobby. Our first stop was at the
Philippine Taoist Temple
. Then we went to
Fort San Pedro
but once inside we found out that the museum is closed since it's a Sunday. Darn the receptionist for collecting
entrance fees from us! Our trip would not be complete without having our pictures taken at the famous
Magellan's Cross
.
At the back of the historical Cross is
Basilica Minore del Sto. Nino
(also called Basilica del Sto. Nino). I wanted to buy miniature Sto. Ninos for pasalubong but couldn't find any in the vicinity. We went inside the church but it was too crowded (it was a Sunday) and we were all perspiring and exhausted and
hungry
already. We left and Mang Ramon
brought us to
Lapu-Lapu Shrine
. We went down the car and asked one another,
"What the hell are we gonna do here?"
. To cut the long story short, we had our pictures taken beside Lapu-Lapu.
Is that his full name? I tried
Googl
ing it but I can't find the answer
. At past 12 noon, we were all ecstatic because --- it's lunchtime! And where else is the best place to
dine but in Shangri-La Mactan's buffet restaurant, Tides. Before eating, we freshened up first and strolled along Shang Mactan's beach. It is paradise! Next time I go to Cebu, I want to stay at Shang and have the must-try experience at the
CHI Spa
. By 1pm, we headed to Tides and had the time of our lives. The buffet costs P1,050++ per person. I love everything I ate there. If I hadn't been full already, I would have tried the noodles at the noodle station. Mang Ramon brought us to Hilton Hotel afterwards but you see, if you just came from Shangri-La, there's no turning back. Hilton Cebu is the pinkest hotel/resort I have ever seen. It didn't take half an hour and we left. We spent the rest of the afternoon buying foodstuff for pasalubong: otap, dried pusit and danggit. It was a tiring yet productive day.
Day 3: This is our last day in Cebu. We woke up later than the day before and spent the morning at the hotel. While having breakfast,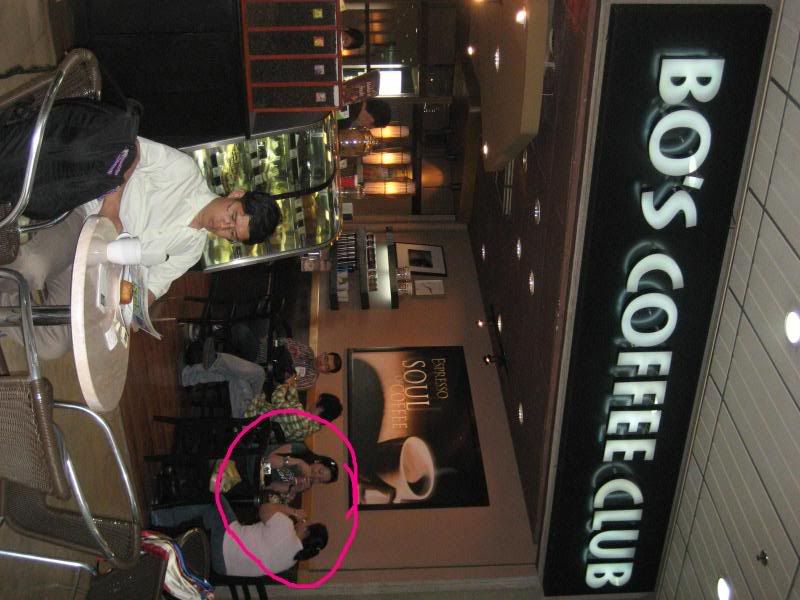 we saw Freddie Roach eating and then I heard from the next table that
Manny Pacquiao
checked-in last night in our hotel. Before going to the airport, we dropped by
CnT
to pick up the lechon we ordered. We had lunch at the airport. There's Bo's Coffee there, too so we had coffee before boarding. Even the coffee in Cebu is cheaper. Good thing we checked in early and asked
pangga
to reserve seats for us. We had good seats.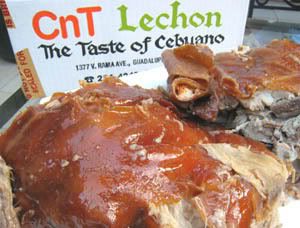 We arrived in Manila late in the afternoon. When I got home, I immediately ate the lechon. It is the yummiest lechon I have ever tasted. It's so flavorful even without the sauce. I wish I had brought in more.
The trip was fun, fun, fun. Thanks to all the people who made everything possible. I love Cebu and I'll surely come back!